Meditech is short for the Medical Information Technology software program  in which medical facilities use to organize all facets of their operations. It allows for the hospital or healthcare facility to operate smoothly and efficiently. Employees who are trained in Meditech are valuable to medical facilities who use the software.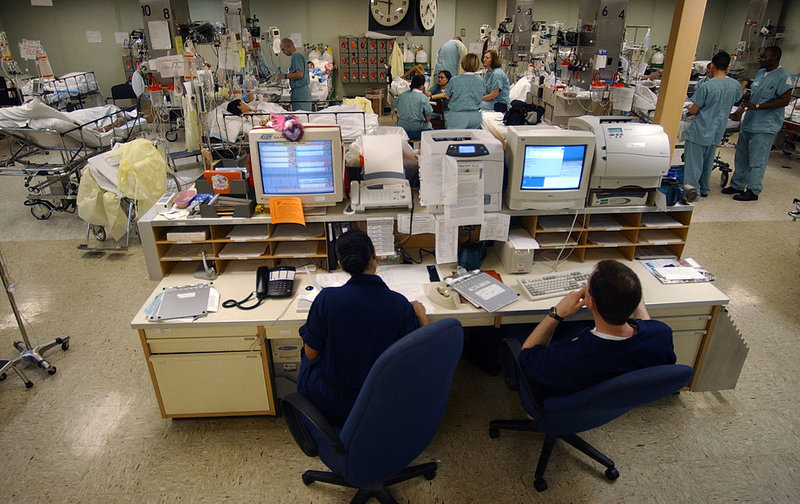 Nearly every function that a healthcare facility needs to do for the care of its patients can be managed and recorded on the Meditech electronic health records or ehr, or sometimes called, electronic medical records, emr. Meditech has become so popular that many hospital job seekers will continually see "must be experienced using Meditech," or something of similar nature. Therefore, it pays for job seekers in the medical field to first get trained in Meditech. It pays for healthcare employment agencies to arrange Meditech training and certification for prospective employees to medical facilities who use Meditech.
As a prerequisite to Meditech training, medical personnel should look into demos or free training online through Meditech videos on YouTube.   In addition to the manual, there are also Meditech online tutorials. Do a search on websites that provide training. Perhaps this would be enough training for some and more familiarity to the system before training begins to others.
The registering of patients for admittance to the Emergency Room and laboratory testing procedures are handled through the administrative applications. This category of applications also allows for appointments to be scheduled for any unit within the medical facility, including for the operating room. The Administrative category also involves the management of medical records for all patients of the hospital, both past and present. The Administrative applications are generally used by the medical receptionists, secretaries and nursing staff.
Departmental Clinicals applications are those that are used by the medical staff. Physician's orders and medical tests are managed in the Departmental applications. Management of tests and physician's orders are ordered, documents and reported on this set of applications. The areas that are covered under this application are the following: imaging, laboratory, rehabilitation, cardiopulmonary, pharmacy and emergency room.
The doctor or nurse records all pertinent data into a patient's electronic medical record through the advanced clinicals applications. Some of this information overlaps what is recorded in Department Clinicals. The Meditech system allows for the application categories to be managed together at the same time to allow for a more efficient process. Since all applications coincide and overlap, the system makes it easier to spot mistakes and problems with regards to pharmaceuticals, laboratory testing and other things.
Administrative tends to overlap a bit with general accounting in the same manner. This is the portion of applications that involve the way the healthcare facility is managed and operated. Applications for payroll and accounts payable fall under general financials, as does health insurance claims and reporting for the patients.  Most of the information for used by tax professionals and advisors are contained here.
There are several other application categories that are more specialized: Decision Support, Continuing Care and Technical. Each application cross references with other applications in such a way that allows for the entire business and operations of the healthcare facility to run more effectively and more efficiently than if everything was done separately.
Due to the widespread usage of Meditech in many healthcare facilities across the nation, it is beneficial for everyone in the healthcare field to know how to use the Meditech software program. Medical facilities including hospitals, long term care facilities, ambulatory care, assisted living facilities and doctor's offices use Meditech. Job seekers are simply at a disadvantage and have a less than better chance of landing a job if they don't know how to use Meditech. 
Some health care facilities will train new staff members or send them to Meditech, Inc. for employment training directly with the software company. Some health care facilities look for people who are already experienced with Meditech or who are at least trained to use the software. There are training services that offer classes on the Meditech system. Some services provide one on one training instead of classes.
It is to the advantage for a job seeker to do is to contact their preferred job site and ask what types of training on the Meditech software are required in order to get a preferential hiring status. There are several types of courses available that teach students how to use the Medical Technology Information software program or Meditech software. It is important to have the right training for the applications that are used in the job that is being applied for.