If you own a small business, or are thinking of starting one, the most popular and cheapest website you can buy is WordPress. A good reason for that is its software is absolutely free. You can use, copy, study, and change it in any way, and it will not cost you a dime. You can download it from wordpress.org or your hosting company easily and instantly online.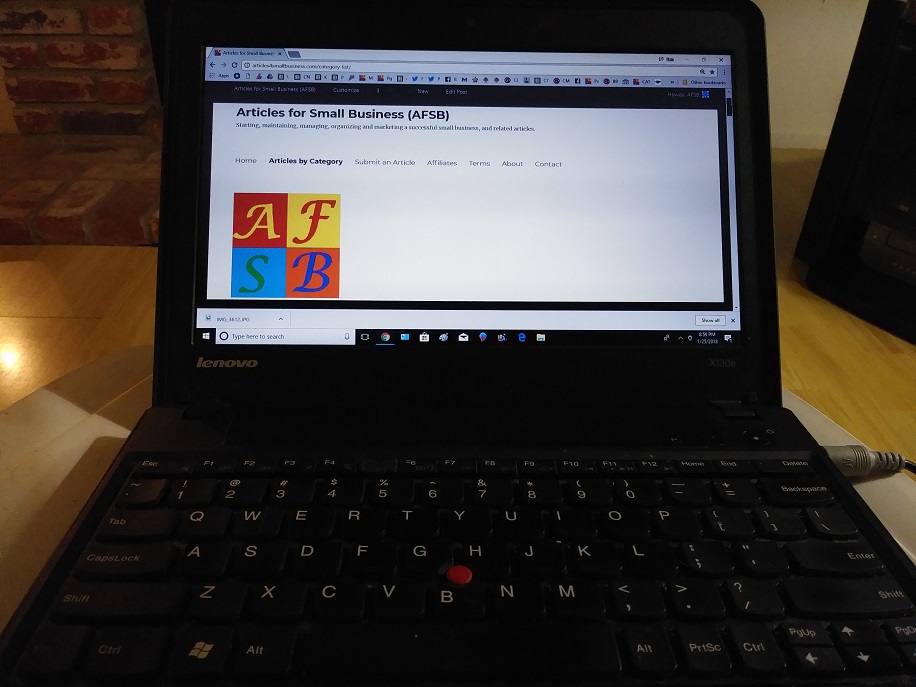 WordPress is the software used for this website. Although it can, your WordPress website doesn't have to look like this. At this writing, there are more than 2,119 themes available. Again, you can download them for free easily and instantly online.
What do You Need to Purchase With a WordPress Business Website?
Although the software is free, there is one thing you must pay for and another that you should pay for:
1. The one thing you should pay for is hosting. If you can handle its installation yourself, have your computer be always on, can handle visitors in bulk, and you are always up to date on your anti virus software, you can download it directly to your computer. Otherwise, you should buy hosting. Web hosting comes with support that helps you with installation. But they generally will not help you with content.
2. You must pay for the registration of a unique domain name. Your domain name is what goes on the address bar that is used to find your website. It starts with http:// or http://www.
Shopping for a Domain Name and Hosting
The good news is many hosting companies will register your domain name for free with the purchase of hosting, if it is a new domain name. If you already own or have a domain name registered by another company, it will become complicated to transfer. Therefore, it will probably not be free.
If you must purchase a domain name without getting it free with hosting, the most popular place to buy it is GoDaddy. As long GoDaddy has no specials on domain names, the cheaper place is usually NameCheap. It doesn't matter where you buy it, a domain name will have the same function no matter where you buy them. These days, extensions like .com, .org, .info… do not matter much. Try to get a name that is relevant to your prospective site. That would give you SEO points. However, a name that your target audience can remember rather easily can be just as good or even better.
GoDaddy is also the most popular place to buy hosting. But, a cheaper place is iPage. iPage has led the industry in price for years. Other hosting companies are Fat Cow, Blue Host and TMD hosting.
To attract your business, the initial rate of most hosting company is very low. Your second bill is at the regular rate. But, you can prepay in advance at the low rate. Therefore, it pays to pay up to three years in advance. For example, at this writing, iPage's initial rate is $1.99 rate is per month. If you buy for three years in advance at $71.64 (plus taxes when applicable), you will enjoy that rate for three years. Your rate after three years is the regular rate of $11.95 per month. If you prepay for just one year at $23.88, the rate of $11.95 will come after one year. Yes, this is with a free domain name. Again, this is just an example because rates and terms can change.
What You Get With a WordPress Business Website
You sign up, to get to get two items:
When someone types your domain name on the address bar on his PC, laptop or smart phone, he will get your website. That is a given.
Your login URL to WordPress. Logging in, you to get to the control panel, otherwise known as the dashboard .
Why WordPress for a Business Website?
To increase its functionality, you can instantly download WordPress plugins, more than 44,000 of them. Software developers who make the plugins must make them available for free. Using another software with less capability for a website can be costly. Companies like Wix will charge up to $25 for software with less features than you can easily do on WordPress.
There are now over 60 million WordPress owners. Do you own one?